Powerful Owls NEW EP Out Now!
Powerful Owls is a first time collaboration between drummer/songwriter/singer Rob Hirst (Midnight Oil, Backsliders, The Break, Hirst / Sennett) and guitarist/singer/songwriter Lez Karski (The Hippos / Bondi Cigars / Nervous Investors).
A five track EP, Powerful Owls blends bluesy riffs, trippy pop and meaty grooves, courtesy of bassist Al 'Owl' Britton (Bondi Cigars/ Dynamic Hepnotics). The session was captured beautifully by producer Paul McKercher at Jim Moginie's Oceanic Studio on Sydney's northern beaches.
In 1979, Lez Karski produced Midnight Oil's Head Injuries, along with the EP Bird Noises the following year. A friendship was forged between Lez and the band which has lasted almost forty years. Lez's suggestion to write some songs together had also been in the back of Rob's mind:
'Lez sent me some riffs, plus a complete song 'Free Range Train' – a dedication to his late friend, guitarist Glen Wellman. I matched the riffs with a few stray verses and choruses, then worked up some lyrics.
When Lez arrived from W.A. to play some pub gigs and festivals on the east coast, we ran through the songs a few times at home then threw them down at Jim's studio. It all seemed quite natural and easy'.
'Many thanks to Jack Howard for brilliant brass, and Brent Clark for the mix, on 'Nothing we have Seen'; and Jim Moginie for the use of all of those splendid microphones'.
0:00/3:17

0:00/4:23

0:00/3:34

0:00/5:17

0:00/3:14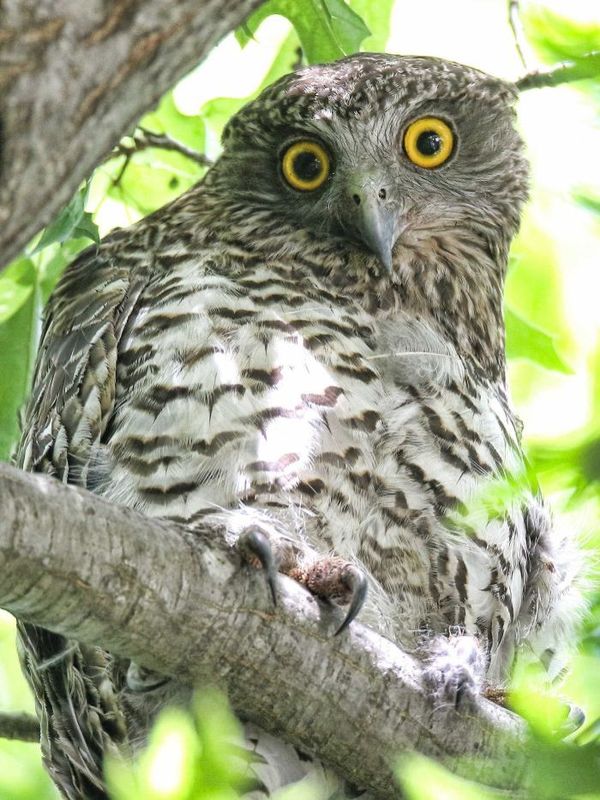 Powerful Owl (Ninox Strenua). There's a family of powerful owls living in the bush near my home. They're massive, with huge golden eyes and brown flecks over a white body. The young one is particularly beautiful, with a white face and breast and dark eye-patches (hard nights on the hunt?) They never take their eyes off me as I pass underneath their chosen angophora tree, their roost way up high - perfect for spotting a lazy ringtail possum or a tardy flying fox. I always get the impression that if I lingered too long in the winter breeding season, they'd swoop down, tear me apart and carry the pieces up into a limb of their tree. Powerful stuff!
Rob 2018